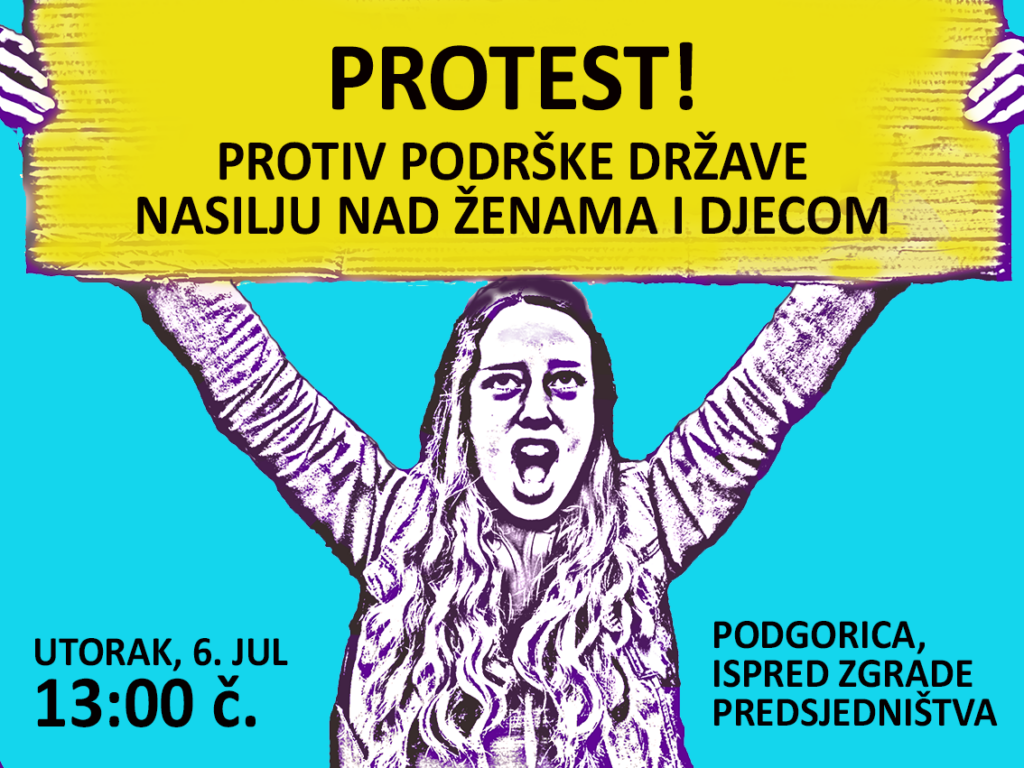 Podgorica, July 5, 2021
Statement of non-governmental organizations regarding the pardon of abuser of women and children:
PROTEST AGAINST STATE SUPPORT OF VIOLENCE AGAINST WOMEN AND CHILDREN
NGOs dealing with human rights and protection from domestic violence and violence against women strongly protest against the decision of the President of Montenegro, Milo Đukanović, adopted on the basis of the Opinion signed by the Head of the Ministry of Justice and Human Rights and the Minister of Interior, Sergej Sekulović. to pardon the convicted family abuser Tomaš Bošković, who continuously abuses his parental rights, disrespects the legal and court decisions and works against the interests of his minor children, whose contact with their mother he has been trying to prevent for 3 years.
With this decision, the President encourages illegal behavior and disrespect of court decisions to the detriment of children, and discourages all parents who struggle to make contact with their children in accordance with court decisions.
By this act, the state of Montenegro committed unheard institutional discrimination against women and children who are victims of violence and violated legally binding international standards, primarily the standards of the Convention on the Rights of the Child and the Istanbul Convention.
In this way, the President and the Minister sent an unequivocal message to many victims who are currently struggling to protect themselves and their children from violence that the state of Montenegro supports and that its actions are not guided by current laws, but by those who continuously abuse public space. They spread hate speech against women with impunity and create an atmosphere of lynching and misogyny.
This decision inflicts immeasurable damage on decades-long efforts to provide victims of violence against women and domestic violence with protection and access to justice, and encourages perpetrators to break the law, disrespect court decisions and irreversibly contaminate public space with untruths and hatred of women.
By this act, the President created an atmosphere of legal uncertainty, endangered the principle of the rule of law, and sent the message to the institutions that their decisions are not obligatory for the perpetrators.
We invite citizens, the representatives of institutions, MPs and decision-makers who do not accept the lawlessness and state violence directed against women and children to join us in the protest we are organizing on Tuesday at 1 pm in front of the Presidency building in Podgorica, in Bulevar Petra Cetinjskog 12.
Non-government organisations:
Women's Rights Center
Center for Roma Initiatives
Ikre, Rozaje
Women's Safe House
SOS Telephone for women and children Berane
SOS Telephone for Women and Children Nikšić
SOS Telephone for Women and Children Podgorica
SOS Telephone for women and children Plav
SOS Telephone for Women and Children Ulcinj
Human Rights Action
ADAMAS
Anima
Spectra Association
Center for Civic Education
European Association of Law and Finance (EALF)
Initiative pf Boka Youth with Disabilities – IMI Boke
Juventus
Queer Montenegro
Association of the Blind of Montenegro
Association of Youth with Disabilities (UMHCG)