Acting Supreme State Prosecutor Maja Jovanović and her associates held a meeting with representatives of non-governmental organizations dealing with the problem of domestic violence, with the aim of improving mutual cooperation.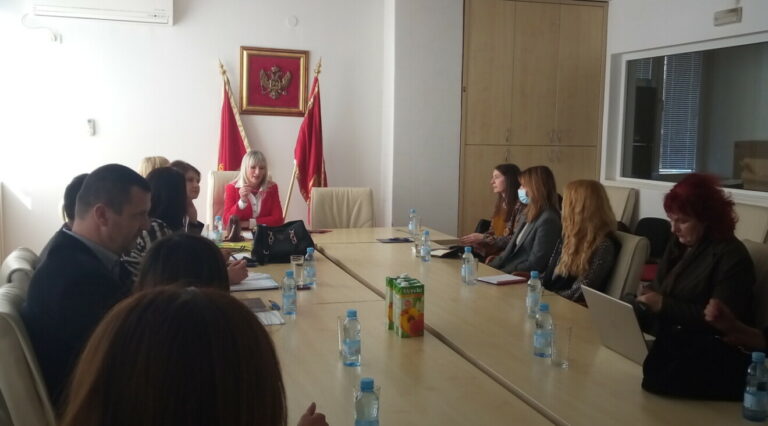 Representatives of non-governmental organizations pointed out the specific problems that arise in practice when it comes to cases of domestic violence.
Jovanovic pointed out that state prosecutor's offices should act with increased sensitivity in cases of domestic violence, to which she drew special attention to all heads of state prosecutor's offices during the recent meeting. She also stressed the need for urgent harmonization of Montenegrin legislation with international standards, according to which any form of domestic violence is treated as a crime.
"The State Prosecutor's Office stressed the need to take such concrete steps, and I hope that we will have the support of the non-governmental sector in achieving this goal as soon as possible, in order to reach the best legislative framework that will ensure that victims of domestic violence truly have institutional support and protection." said Jovanovic.
The meeting was attended by representatives of nine NGOs – Women's Rights Center, SOS Hotline for Women and Children Victims of Violence Niksic, Women's Safe House, SOS Hotline for Women and Children Victims of Violence Podgorica, Center for Roma Initiatives, Parents Association, Montenegrin Women's Lobby, NGO Sistem and Ikre.
Lepa Medenica, Head of the Higher State Prosecutor's Office in Podgorica, Radovan Đurišić, Head of ODT Bar, Armin Selmanović, Deputy Head of ODT Podgorica, Jelena Protić, State Prosecutor of ODT Podgorica, who is also a member of the Operational Team for Combating Domestic Violence. and violence against women, as well as Maja Raspopović, State Secretary of the Supreme State Prosecutor's Office also participated in the meeting.