Safety planning and online security guide for victims and survivors of domestic violence and abuse
If you are currently experiencing or have experienced domestic abuse you will know what being isolated and frightened feels like. The abuse you are experiencing is not your fault and you are not alone in this. While following safety requirements due to pandemic, your worries may increase if you are required to self-isolate with someone who is causing you harm.
We have created some guidelines to assist you in planning your safety. It is important to try and think about the things that may change or make you more unsafe, especially thinking through now how you might get help if you need it.
Professional assistance
You can contact our NGO "Women's Rights Center" to receive professional assistance in the form of free legal and psychological counseling, free court representation, mediation with institutions specialized in dealing with violence against women. Contacting professionals is beneficial for you in terms of psychological healing, assistance with safety planning and acquiring your legal rights. All consultations are confidential, so you can keep your contacts with them undisclosed. Even if you have friends or family members who support you, acquiring professional help is important because our assistance is experience based and comprehensive in terms of areas of support covered. We can assist you in contact with relevant institutions and accompany you during police, centers for social welfare interviews and court proceedings. During the lockdown, we provide online counseling.
As a response to isolation measures, we participate in campaign #BEZBJEDNA DOMA that was created by the Ministry of Internal Affairs to provide contacts for safe and instant reporting of violent incidents.
Support from others
Think about the person(s) you trust and could ask for support in crisis situation. Beside VAW professionals, this person can be your friend, family member and/or a neighbor.
Can you call/text someone you trust? Can you talk to them about what you are experiencing and what your concerns are?
Do you have a code word/phrase to let someone know that it is not safe to talk or to ask someone to phone the police? If not, we recommend to create a word or code that will warn your friend, family member and/or a neighbor that you are in danger and that they should call the police.
Could you set up with someone you trust a check in call so you know that someone will contact you at certain times of the week?
Self-care
Keeping up with basic self-care like eating, showering, sleeping and exercising can all help maintain your mental health.
Take whatever breaks you can, walk around any outside space you might have, read or engage in another pastime, get the kids involved in an online exercise class.
General safety planning
Do you have a personalized safety plan? In case you don't, you will find suggestions on how to create one here: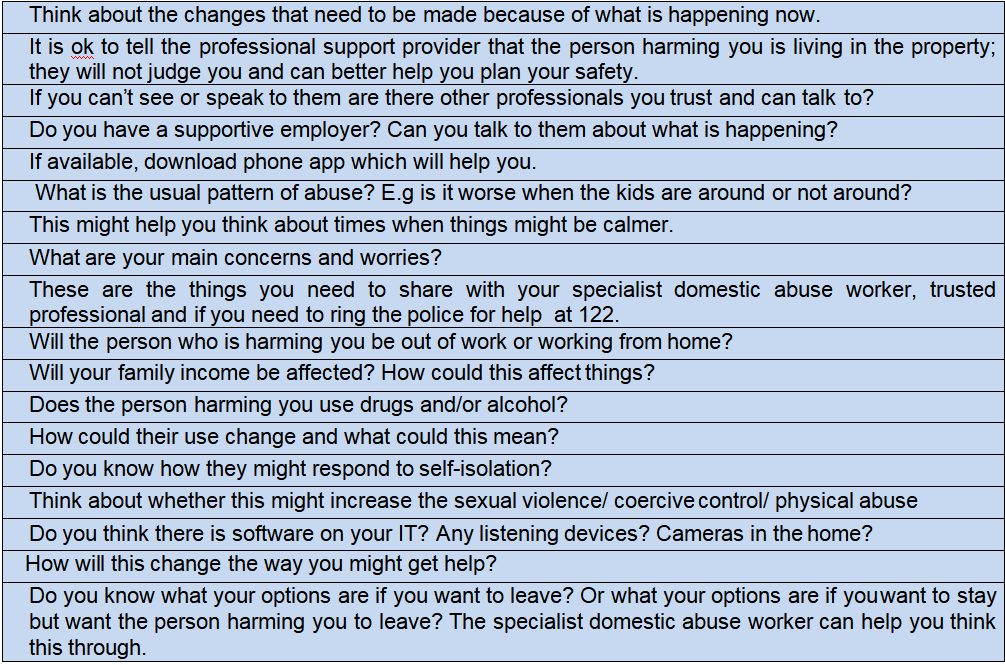 Safety planning suggestions: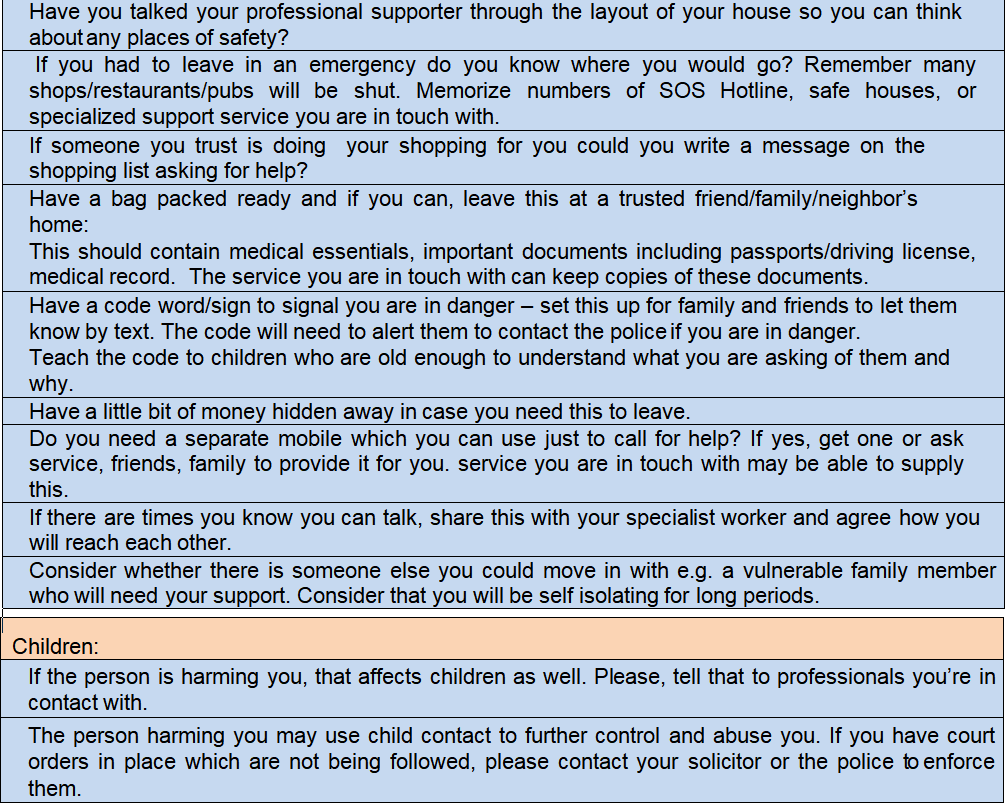 Online security
An important part of a good safety plan is maintaining security of your devices — phones, tablets and computers as well as your emails and social media accounts.
General recommendations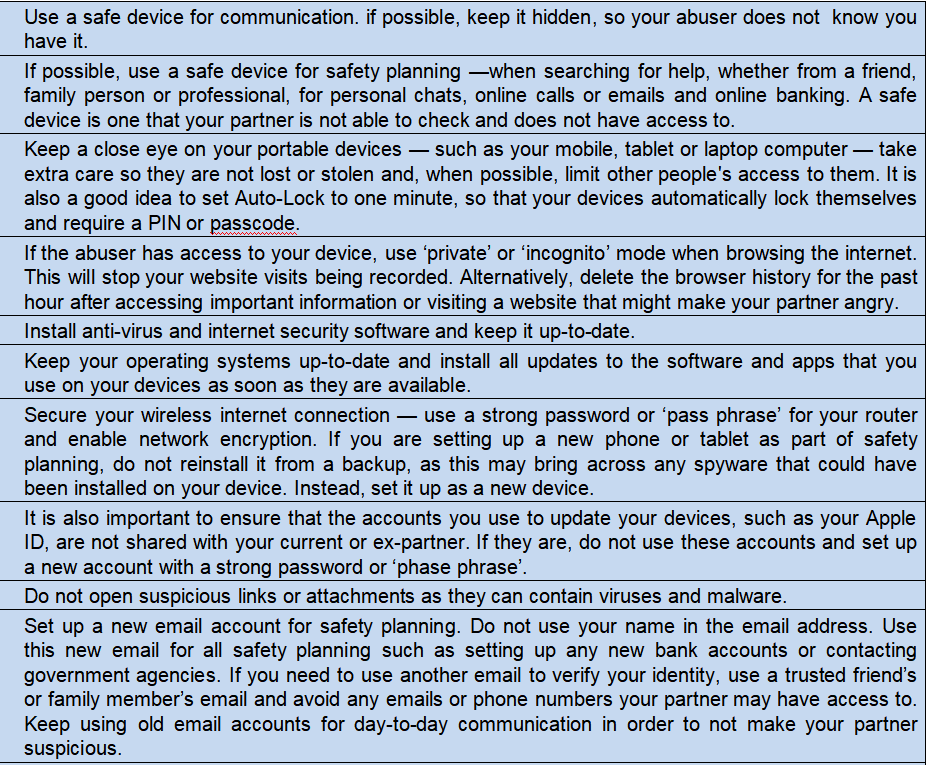 Social media safety

Possible rules for using social media:
● Not posting personal details such as your address, email address, phone number and birthdate.
● Thinking about how much identifying information is in the photos or videos you plan to share. Could someone find out where you are if you or your children are pictured at a well-known venue or at someone's house? Could an abuser work out regular patterns in your day-to-day routine?
● Not checking yourself or your children into places or venues.
● Not adding hashtags to anything you do not want to become public.
● Disabling location services on all your and your children's devices.
● Asking friends and family not to check you or your children in, 'tag' them or post anything about you publicly.
● Changing settings in order to prevent others tagging you or checking you or your children in without your approval.
● Social media planning is something you should do regularly
● Safety planning is not something you do once and then forget about. It is something you need to do regularly. So set a time to go over your safety plans, including your personal rules for using social media, every month.
Always keep in mind that you are not alone in this and that there are empathetic professionals that will help you in your path of setting free from violence.