On the occasion of marking March 8 – the International Women's Day, t Women's Rights Center and the Committee on Gender Equality of the Parliament of Montenegro organized an exhibition of young artists called "Portfolio of Nonviolence". The exhibition was opened on March 7, in the Parliament of Montenegro, at 18:00h.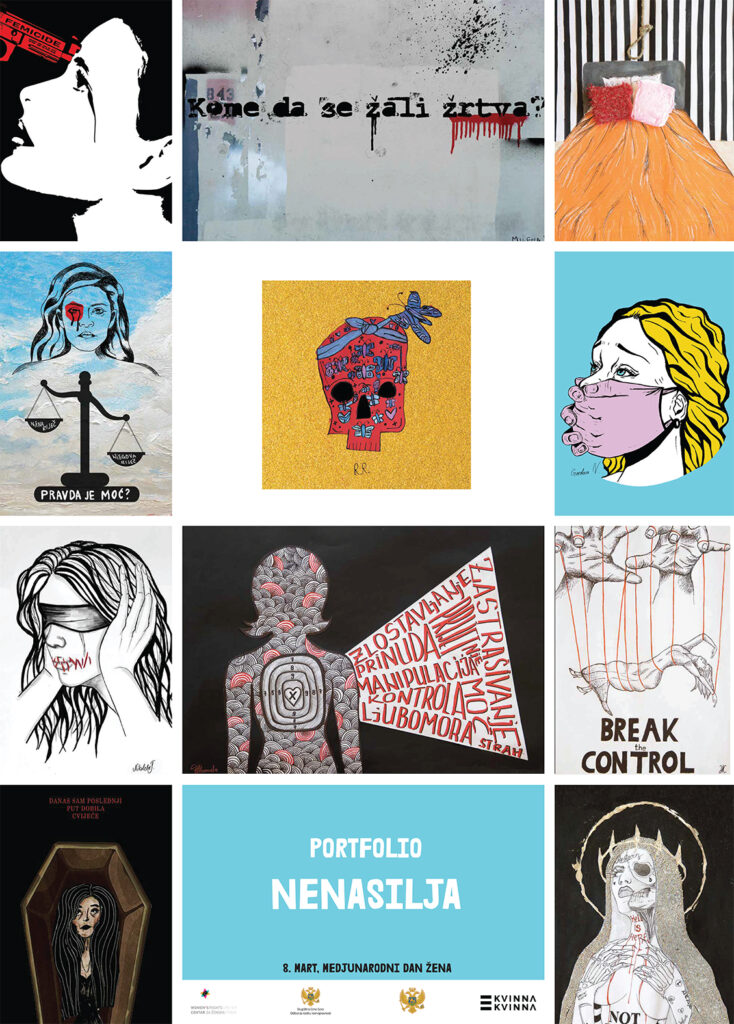 The works of participants in art workshops organized by WRC within the project "Short Course of Cutting Down the Patriarchy" were presented at the exhibition. The workshops, organized as a reaction to the frequency of femicide cases in Montenegro, aimed at the critical reflection on this problem, in order to warn and encourage the public by artistic means to both reflect and act to combat violence against women in our society. The workshops were led by artists Tanja Markuš and Svetlana Dragojević.
The exhibition presents works of art by Andrijana Stantić, Manuela Djurović, Nikoleta Škrelja, Gordana Vojinović, Rastko Radulović, Manuela Fetahović, Milena Blagojević, Dragana Krivokapić, Jana Tešović, Milica Kažić and Elma Džidić.
The exhibition was opened by Božena Jelušić, President of the Gender Equality Committee of the Parliament of Montenegro, Branka Bošnjak, Vice President of the Parliament of Montenegro, Maja Raičević, Executive Director of the "Center for Women's Rights" and Tanja Markuš, visual artist.
Maja Raičević, WRC Executive Director, called on the authorities to use their control function and help launch a parliamentary inquiry that will serve as a basis for the Assembly's decision on the political responsibility of public officials who "ignored the cries of these young women., and thus their children, for help and protection ".
Visual artist Tanja Markuš pointed out that the exhibited works are characterized by high aesthetic and ethical qualities and therefore can serve as a model for a thorough, consistent and responsible approach to solving a complex problem, such as violence against women. "Their aesthetics have a wide target group – members of different generations, levels of education, as well as bearers of different cultural, religious and national identities, which is why it is important to give them the opportunity to present their art while at the beginning of their careers."
The President of the Committee on Gender Equality of the Parliament of Montenegro, Božena Jelušič, emphasized the importance of full implementation of the Istanbul Convention and reaching a greater consensus regarding violence against women and girls. She added that this is an opportunity to invite all MPs because, as she said, "our political community is not working properly and violence against women is a sign of the lack of social cohesion."
The Vice President of the Montenegrin Assembly, Branka Bošnjak, expressed hope that there will be as little violence as possible and as much consensus as possible in Montenegro: "There is an impression that the state has greater empathy towards perpetrators than towards women who are victims of violence. That is why today I appeal to everyone that they should think first of all about the victims, that they should listen to the victims. "
You can watch the full video of the opening here:
Catalog of the exhibition, created by graphic designer Armin Ličina, a participant in the first "Short Course of Cutting Down Patriarchy":